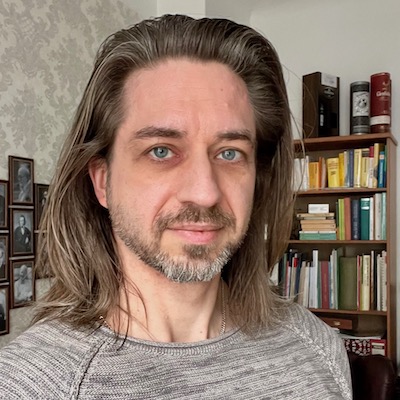 7 October 1977
born in Berlin/Germany
1985-1994
guitar lessons with Bernd Stahl
1987
first contact with plucked orchestral music: anniversary concert "40 Years Teg'ler Zupforchester"
1992
member of the Teg'ler Zupforchester (TZO)
profound interest in classical music, thus first experiments in composing
1994-95
guitar lessons with Michael Kubik
first pieces are finished
1997
interest in comtemporal music arises: Bartók, Schostakowitsch, Schönberg; later Penderecki, Lutoslawski, Rihm
1998
played in the European Guitar and Mandolin Youth Orchestra (EGMYO)
Autumn 1998
The first orchestral piece "Concerto No. 1" was performed by the TZO.
1999-2004
member of the Landesjugendzupforchester (LJZO) Brandenburg/Berlin
1999-2000
mandola lessons with Ariane Lorch
2000
participated in the contest "Jugend komponiert" (youth composes), 2. price for "Burleske Szenen"
2001
"Burleske Szenen" are published by Vogt & Fritz
2. price in the contest "Jugend komponiert" for "Kleine Machnower Musik", 1. price for "Mandala"
2003
2. price in the contest "Jugend komponiert" for "Die sechs Ansichten des Kirchturms zu Springiersbach" (The six views of the steeple in Springiersbach)
2006
"Capriccio" is performed during the "Eurofestival Zupfmusik" in Bamberg.
2007
Since Easter 2007 I work as a tutor for mandola at the LJZO Brandenburg/Berlin.
2010
"Canyon" is performed by the Duo Christian Laier and Takaaki Shibata during the mayoral welcome for the foreign guests of the "Eurofestival Zupfmusik" in Bruchsal.
1st Price in the Composition Competition "José Fernández Rojas" in Logroño, Spain for "Rituel"
2012
"Cantô" is written as a commissioned work for Michiko Kataoka and is premièred in Tokyo with her conducting the Ensemble Testa Calda.
2013
"Kaleidoskop" is written as a commissioned work for the Eurofestival 2014 in Bruchsal and is premièred by the Landesjugendzupforchester Sachsen and Olga Dubowskaja.
2018
founded the Eulenspiegelquartett with Sandra Kebig, Janett Wollert (mandolins) and Charlotte Klages (mandola). The ensemble was given 24 points and 1st prize at the competition "Ü30 Musiziert" in Hamburg.
2020
wrote "menhir", the first work for symphony orchestra.